~ KELLEY LAW ~
2000 WORLD CURLING CHAMPION & 2002 OLYMPIC BRONZE MEDALIST
TEAM LAW
---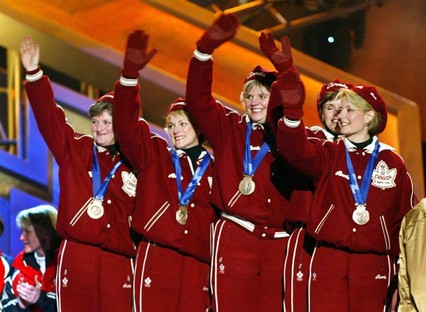 Team Law gained national acclaim in Canada in the sport of curling. With teammates Julie Skinner, Georgina Wheatcroft and Diane Nelson (now Diane Dezura), Team Law won the national women's curling championship in February, 2000. A few weeks later in April 2000 the team capped off the season by winning the gold medal at the Ford World Women's Curling Championship in Glasgow, Scotland.
​
Team Law continued their winning ways in November, 2001 when they won the Canadian Olympic curling Trials in Regina, Saskatchewan and the rite to represent Canada at the 2002 Olympic winter Games in Salt Lake City, Utah.

At the 2002 Winter Olympic Games in Salt Lake City, Team Law finished the round robin portion of the event in 1st place with a record of 8 wins and 1 loss but lost a semi-final game to Rona Martin of Great Britain who went on to win the gold medal. Team Law showed great character in bouncing back from their semi-final defeat to win the bronze medal game against Kari Erickson of the United States.
Team Law was inducted into the BC Sports Hall of Fame in 2002
---
GALLERY